Scroll for English version
Ankomst: I kan tjekke ind kl. 15.00 den første dag, og I skal tjekke ud på jeres sidste dag senest kl. 10.30. Praktisk information om aflevering af nøgle m.m. får I ved ankomst.
Booking: Du kan booke dit ophold hos Bygaden 9 her. Du er altid velkommen til at skrive til os på info@bygaden9.dk. Vi har oplevet, at vores mail kan ryge i spamfilteret i folks indbakker. Tjek, om mailen gemmer sig i uønsket post, hvis du ikke kan finde den.
Lejebetingelserne er her.
Der er gratis wifi i lejlighederne.
Sengelinned og håndklæder medbringes eller lejes på stedet for 75 kr. kontant per person.
Parkering: Der er parkeringspladser ved ferielejligheder. Skilte markerer, hvor I kan parkere.
Gårdspladsen og staldbygninger er private, men ellers er I velkomne til at klatre i træerne og benytte jer af borde og bænke på grunden, der ikke er markeret med "privat". Spørg, hvis der er noget, I er i tvivl om.
Der er trapper op til svalegangen med ferielejligheder. Derfor er de desværre ikke handicapvenlige.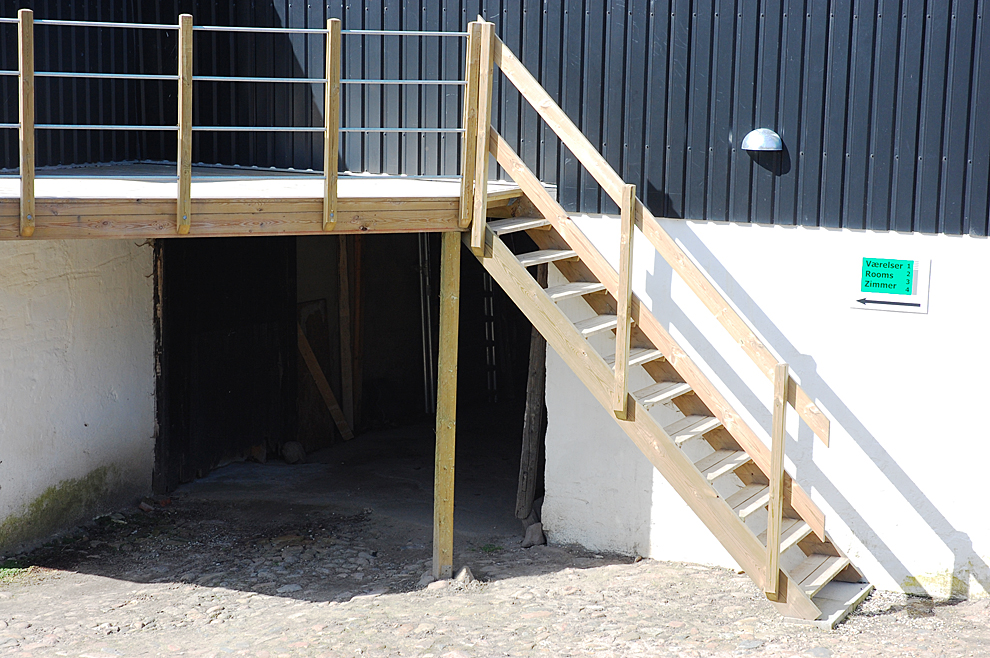 English version:
Arrival: You can check in at 15:00 (3 o'clock PM) on the first day and you must check out on your last day at the latest 10:30 (10.30 o'clock AM). Practical information about the delivery of key, etc. you will recieve at arrival.
Booking: You can book your stay with Bygaden 9 here. You are always welcome to write to us at info@bygaden9.dk. We have seen that our mail can disappear in the spam filter in people's inboxes. So please check whether the mail could be hiding in junk mail, if you can not find it.
Rent conditions are here.
There is free wifi in the apartments.
Bed linen and towels are brought or rented on site for 75 DKK in cash per person.
Parking: There is parking at the apartments. Signs mark where you can park.
The courtyard and stables are private, but otherwise you are welcome to climb in the trees and avail yourselves of tables and benches in the garden area which is not marked with "private". Ask if there is anything you are unsure about.
There are stairs leading up to the holiday apartments. Therefore, they are unfortunately not wheelchair accessible.